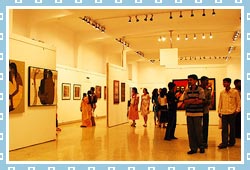 Mumbai, a city pulsating with life and vibrant with art, is not only the financial capital, but also the cultural and art hub of India. We know that India is a multi-lingual country of colors, vivacity and diverse cultures. Artists from the past and the present have drawn inspiration from this variegated nature of the country. Today when corruption and nasty politics have taken over the better aspect of the country, there are some artists who, through their sheer artistic virtuosity, have dared to depict even this sad picture meticulously on their canvases. Art as a form of self-expression is older than theatre or movies and continues to be a strong and enlightening medium. Mumbai is one of those cities which believes in the strength and richness of art both for its visual magnetism and as a reformer of the society. Therefore, tourists who want to explore the best of Mumbai should visit some of its popular art galleries. Below is a list of some of the best galleries in Mumbai.
Chemould Prescott Road
Address:
Queens Mansion | 3rd Floor
G. Talwatkar Marg
Fort, Mumbai - 400 001
Tel:
(+91) - (22) - 2200 0211/2
Website:
www.gallerychemould.com
Timings:
11:00 AM - 7:00 PM (Monday - Saturday); Sunday holiday
One of the oldest and finest art galleries in Mumbai is the Chemould Gallery, established in 1963 by Kekoo and Khorshed Gandhy. The gallery has been exhibiting some of the most excellent artworks from prominent as well as some budding artists since its establishment. Till date, Chemould Gallery has been looked upon by the major art enthusiasts. Being a common place or "adda" for many informal intellectual gatherings, this gallery offers its visitors a multifarious spectacle of artwork, from the pre-modern, modern and post-modern era.
Project 88
Address:
BMP Building, Ground Floor
N.A. Sawant Marg
Colaba, Mumbai - 400 005
Tel:
(+91) - (22) - 2281 0066
Website:
www.project88.in
Timings:
Monday 2:00 PM To 7:00 PM (by appointments only)
Tuesday to Saturday 11:00 AM To 7:00 PM
Closed on Sunday and public holidays
Project 88 displays a more contemporary and innovative form of art. From videos to drawings and sculptures, one can witness the works of some of the leading and internationally popular artists who have mastered the contemporary form of art.
Galerie Mirchandani & Steinruecke
Address:
2, 16/18, Sunny House,
Behind Taj Mahal Hotel, Apollo Bunder,
Mere Weather Road, Colaba, Mumbai - 400 005
Tel:
(+91) - (22) - 2202 3030
Website:
www.galeriems.com
Timings:
10:00 AM to 6:30 PM.
This gallery is owned by Usha Mirchandani and Ranjana Steinrucke, who have equaled themselves with the international standards of artists. This gallery has attracted stalwarts like Kiki Smith and Jonathon Meese. Besides, the gallery also motivates young art buffs by offering them adequate opportunities to showcase their works and supporting them until they make a career. The inside view of the gallery extraordinarily minimalistic, contemporary in design and outstanding when it comes to the artworks.
Sakshi Gallery
Address:
11-A, Ground Floor, Tanna House,
Nathalal Parekh Road, Colaba
Mumbai - 400 005
Tel:
(+91) - (22) - 6610 3424
Website:
www.sakshigallery.com
This spacious art gallery displays works of heterogeneous nature, from artists within the country and abroad. One can find the implausible blend of the modern, the bold and the old-school genre of art.
Volte
Address:
2/ 19, 1st Floor, Kamal Mahal
Arthur Bunder Road
Near Radio Club
Colaba, Mumbai - 400 005
Tel:
(+91) - (22) - 2204 1220
Email:
info@volte.in
Website:
www.volte.in
Timings:
11AM to 7PM (Monday to Saturday); Sunday holiday
The gallery was set up in 2009 by Tushar Jiwarajka who has successfully presented some stunning works from Ranbir Kaleka's canvas and video works. After an encouraging response from the audience, the gallery has decided to keep video works as its forte.
Lakeeren
Address:
6/18, Grants Blg, 2nd Floor,
Opposite Basilico Restaurant,
Arthur Bunder Road, Colaba, Mumbai - 400 005,
Tel:
(+ 91) - (22) - 6522 4179
Email:
lakeeren@hotmail.com
Website:
www.lakeerengallery.com
Timings:
11 AM - 7 PM (Monday - Saturday); Sunday holiday
Arshiya Lokhandwala, the founder of this gallery, herself is an outstanding artist. A strong post-colonial aspect underlies all the works in the gallery and the audience is given insights on these art types of arts through lectures, which enables the visitors to relate to the themes that these art pieces advocate.
The Guild Art Gallery
Address:
02/32, Kamal Mansion, 2nd floor,
Arthur Bunder Road,
Colaba, Mumbai - 400 005
Tel:
(+ 91) - (22) - 2287 6211/5839
Website:
www.guildindia.com
Timings:
10.00 AM - 6.30 PM (Monday - Saturday); Sunday holiday
This gallery is more of a learning center and its works are diverse in nature. It offers its members (who include some renowned artist, sculptors, etc.) the chance to experiment with their works and allows them to try their hands at many new forms of art. You can always expect the unexpected here. For instance, a few sculptures from the hands of Gieve Patel, an established painter.
Chatterjee & Lal
Address:
01/18 Kamal Mansion Floor 1
Arthur Bunder Road Colaba
Mumbai - 400 005
Tel:
(+91) - (22) - 2202 3787
Email:
info@chatterjeeandlal.com
Website:
www.chatterjeeandlal.com
Timings:
11:00 AM to 7:00 PM (Monday - Saturday); Sunday holiday
This gallery showcases the best art pieces. The curators Mortimer Chatterjee and Tara Lal run regular shows and take the pleasure of enlightening the audience on the denotations of the artworks they exhibit. As for the artists, their works are chosen not for their repute, but for their brilliance.
There is no dearth of artists in Mumbai. Out of the many factors for which Mumbai is famous, art galleries are prominent ones. In fact, many art lovers come to Mumbai to pursue their passion in learning and promoting their art. So, if you are in Mumbai, save some time for a visit to the famous art galleries in the city.