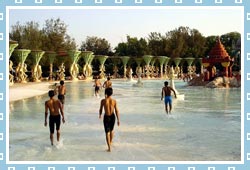 Water Kingdom is known to be Asia's biggest water theme park and was established in 1998. Located in Gorai, Mumbai, the water park is an extension of Essel World. The water park's incredible slides and water rides are loved by all tourists. Mumbai's pride and the ultimate entertainment package for people of all age groups, Water Kingdom is built innovatively to provide tons of excitement and also offers adventure cruises as a bonus feature for tourists looking for a little more excitement. Some of the mind-blowing water rides here include the 'Brat Zone', 'Adventures Amazonia', 'Goofer's Lagoon' and 'Misphisly Hill'. Apart from the slides, rides and other fun activities, the water park also has a number of restaurants that promise the tourists lip-smacking gastronomical delights. During special days, several incredible events are organized at Water Kingdom as part of the celebrations. Water Kingdom is truly a remarkable place that offers unlimited fun for all who visit the park. Truly a magical tourist destination, this park, with its many entertaining features, attracts a number of tourists every single day.
Main Attractions
Water Kingdom has several features that attract tourists from all over the world. 'Aquadrome' is a unique feature at the Water Kingdom, where a dance zone of 7000 square feet is set with numerous water sprinklers. Tourists can enjoy dancing to the music while being occasionally sprayed with water from the sprinklers. The 'Misphisly Hill' has 12 terrifying high-adrenaline rides that are extremely popular at the water park. The 'Drifting River' is a loop of gently flowing water that promises a ton of excitement with slow currents, where people can relax while they float. The 'Adventure Amazonia' is a water ride that is truly breathtaking! Some of the other enthralling attractions here include the 'Juicy Jammer', 'Turbo Terminator', 'Black Demon' and 'Lemon Drops'.
Infrastructure
Covering an area of 22 acres on an island, Water Kingdom is the ultimate destination for all water-loving tourists. Designed in accordance to international schemes and standards, the water park offers a unique experience for all! Besides the water rides and activities, there are other amenities available, which are sited in various sections of the amusement park. Innumerable shops, several food outlets, facilities for the physically challenged, first aid rooms and so on are few of the many amenities available here. The place is well-maintained and safety policies are also strictly adhered to at the Water Kingdom.
How To Reach
By Road
One can reach Water Kingdom by taking a taxi or auto-rickshaw from the city. The Western Express Highway is the best route to get to Gorai and passes through Bhayander Road to the water park. Buses are available from Malad to Marve Beach and from Borivali to Gorai Creek. Tourists can opt for either of the routes to get to the Water Kingdom.
By Rail
Local trains are available from within the city. The Western Railway train reaches Malad and Borivali station, which are the closest railway stations to Water Kingdom. One can take ferry rides to the water park from here.
Water Kingdom is a reputed, themed water park in Mumbai and is famous as a popular picnic spot for tourists who come from around the world. Apart from being the largest international water theme park in Asia, it is also famous for its gigantic wave pool. Explore this magical place with your friends and family and enjoy an unforgettable day of incredible excitement.