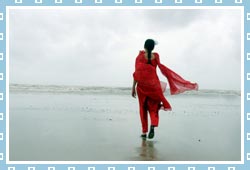 Since Mumbai is the home of Indian films, the hub of fashion; it is therefore the most sought after destination in India. People are generally dicey on what to wear in this tinsel town, so as to look up-to-date with the city's fashion. So here's your guide to the dressing styles in Mumbai. Wearing anything in black is next to impossible in Mumbai, a place literally hot and steamy. How about sporting a kurta, a garment accepted by socialites and socialists? This comes in a variety of styles, with or without sleeves, with or without buttons, a slit, formal or casual, long or short; available in every colour for you to choose your pick. There are several brands available in the city that are; cheap, pretty and comfortable. And the best part about kurtas is you can wear it to a dinner, market or temple; it seems swanky everywhere. Fusion of Indian and Western dressing styles isn't a bad idea either. In the city that loves bling, pick up pairs of flat open toed sandals, lay your hands on some soft textured shirts, tunic tops, kurtas and team them up with cotton skirts or jodhpuri or harem pants. It looks cool with every outfit. Touch of gold in your slippers, evening bags or clutches would definitely be a hit anywhere you visit.
Men can try matching a regular pair of cotton or linen trousers with light cotton shirts. These fabrics may support your stay in that warm environment. And yes, you can even wear a light waist coat or jacket to formal meetings! In the evening outings, you can pair those trousers with a dark colour allowing you to freely adapt to any ambience. Jeans paired with a plain linen shirt works too for the younger lot travelling with you. For ladies, dipping in ethnic clothes from head to toe would not only make you feel awkward but also the hosts of the evening get together. Carrying off light embroidered tops teamed with a skirt or trousers would appear quite well. Sporting a regular shirt and jeans along with a bit of ethnic jewellery can also be considered.
Mumbai, apart from being the fashion hub of India has a weather that's muggy and hot. So, putting on cotton outfits is recommended, since they absorb the sweat and make you feel comfortable.