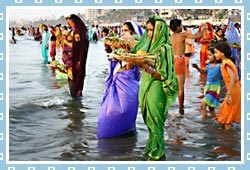 Mumbai is a city of many faiths. Since the cultural diversity is immense, religious conviction and secularism go hand in hand. There is a mix of religions in Mumbai due to the widespread growth of various communities and migrants. Mostly, people of Mumbai are a concentrated mix of Hindus, Muslims, Zoroastrians, Christians, Jains and Buddhists. Although Mumbaikars tend to get busy with their hectic schedules, they always make sure that they devote some time to their religious practices and visits. As highly devout dwellers, Mumbaikars are also very passionate about their festivals. Whether it is Ganesh Chaturthi or Christmas, Mumbai, being a city of many contrasts, is brightly lit during each festival. The diversity and the compassion that Mumbaikars show toward one another, in terms of religion, reflects the liberal spirit of the city. A blend of old and new in a contrast of rich and poor, Mumbai is truly a city with many cultural and religious facets. If you want to know more, scroll down.
Zoroastrians
Mumbai has a considerable population of Parsis, who originally migrated from Persia/Iran during the 10th century AD. The Parsis were one of the first communities to settle in Mumbai following the Koli fisher folk. Special fire temples are erected around the city and are frequented by Parsis in large numbers. Despite being one of the major religious communities in Mumbai, Zoroastrians live happily in communion with the other religious groups, celebrating all the festivals with zeal along with their own such as Khordad Sal, Muktad, Navroz and Zardosht.
Hindus
Majority of the people living in Mumbai are Hindus (67.39%). However, Hindus are sub-divided into linguistic/ethnic demographics. Most Hindus hail from Maharashtra, followed by Gujarat, Rajasthan and other parts of India. The peak-hour traffic and crammed schedules don't stop the average Mumbaikar from visiting temples every now and then. In Mumbai, work and religion are given utmost preference. Major Hindu festivals celebrated in Mumbai are Diwali, Ganesh Chaturthi, Durga Puja, Navratri, Dusshera, Janmashtami and Shivratri.
Muslims
Many parts of Mumbai are Islamic colonies with a large Muslim population. Islam is also one of the oldest religions practiced in Mumbai and the different sections of Muslims are aplenty. Mosques and places of worship can be found in areas like Colaba, Malad, Juhu and even Andheri. The oldest Muslim communities in Mumbai include the Ismaili Khojas, the Konkani Muslims and the Dawoodi Bohras. Like all Mumbaikars, Muslims too are very passionate about their festivals. Eid-ul-Fitr, Moharram and Bakri-Id are some of the major festivals celebrated with great fanfare in Mumbai.
Christians
Christians make a fairly small percentage of the population of Mumbai. Native Christians in Mumbai include East Indians-who are an ethnic group-and Catholics, Protestants and Orthodox Christians. Since Mumbai was a Portuguese colony for a very long time, its naives are believed to have converted to Christianity from Hinduism. Many Christians from Israel and other migrants from around the world complete the Christian population in Mumbai. Like all other festivals, Christmas, Easter and Thanksgiving are some of the most anticipated Christian festivals in Mumbai. Parades, special shows and performances are staged, while the roads are radiantly lit with Christmas lights in Mumbai.
Jains, Sikhs, Jews and Buddhists also form smaller percentages of the population. There are quite a few Jain and Buddhist temples surrounding the city. Whatever may be the faith or religion, the people of Mumbai follow different customs, lifestyles and even faiths on an everyday basis, but what is to be admired is their perseverance at standing united, living in harmony and also learning to appreciate each other's customs and rituals. The people of Mumbai celebrate all festivals with great fanfare, reverence and above all, unity.