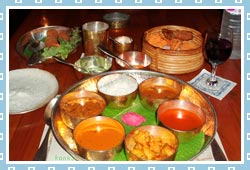 Mumbai is a cosmopolitan city known for its many lip-smacking dishes. Be it vegetarian or non-vegetarian, the dishes in Mumbai boast of rich taste, fieriness and impressive flavors. The cuisine of Mumbai covers a large assortment of interesting, authentic dishes and zesty seafood dishes. The staple foods consumed by the residents of Mumbai include rice, aromatic fish curries, Indian bread (chapatis and rotis), vegetable curries, pulses and desserts. Coconuts, cashew nuts, peanuts and peanut oil are some of the major ingredients used in many of Mumbai's traditional dishes. Mumbai houses many restaurants where people can enjoy some amazing food. The city is known for its delectable chaats at the various food stalls in the busy streets of Mumbai. Here, the stalls are crowded with people who relish tangy fast-food and local snacks. Apart from the traditional dishes, chaats, sweets and seafood specialties, there are lovely continental restaurants across the city that will cater to a more subtle palate, if you can't handle all the hot food!
Local Dishes
Mumbai offers a wide array of mouth-watering vegetarian and non-vegetarian food that the local people cannot do without. The dishes that are unique to this city are vegetable pulao, masala bhaat, moong dal kichdi, dalimbya, palkachi takatli bhaji, amti, kanda batata poha, batatyache kaap, vangyache kaap, bombil batata bhaji, kamag kakri, Mumbai tawa pulao and so on. Dry Bombay duck curry, anda bhurji, kebabs, chicken tikka, butter chicken, bheja fry and kheema pav are also some of the amazing non-vegetarian dishes for all meat-lovers.
Seafood
Mumbai is a coastal city with a long history of fish trade, as the city's natives were 'Kolis' or fishermen. For this reason, seafood is an essential culinary must-have that forms an important part of Mumbai cuisine. There are plenty seafood restaurants in Mumbai that serve a range of delicious seafood dishes. You can savor amazing fish appetizers, grilled fish dishes, baked fish dishes, fish pickles and lots more in the city of dreams. Some of the main seafood items offered in Mumbai include fish koliwada, tisriya masala, prawn tikki, fish thali, chanak fish fry, bangda tikhale, surmai fish curry, and Bombil fish fry.
Chaats (Local Fast-Food)
Every nook-and-cranny in Mumbai, houses numerous food stalls and eateries offering hot, spicy, crunchy and fresh chaats-a favourite with the locals. Chaats are tasty crispy, snack items that comprise of ingredients like chaat masala, yoghurt, onions, coriander, sev (crunchy wafers), mango powder, chilies, potato and much more! There are hawkers who move from one road to another, even selling chaats to the people stuck in their vehicles during peak traffic hours. So don't be surprised if a chaat vendor walks up to your vehicle while you are traveling somewhere or while you are at a traffic signal. Some of the popular chaats dishes are Vada Pavs, Aloo Chaat, Dabeli, Pani Puri, Pav Bhaji, Bhel Puri, Dahi Vada and so on.
Sweets
Some of the yummy sweet dishes served in Mumbai include modak, sheera, puran poli, dry fruit kulfi, gulab jamuns, laddoo, aamras and chirota. One of the most popular desserts in Mumbai is 'shrikhand', which is a sweetened yoghurt dessert flavoured with cardamom, nuts and saffron.
Mumbai is a wonderful city and also a culturally diverse one. The city promises some heavenly
street food
that includes a wide range of appetizers, seafood dishes, chaats, traditional Maharashtrian and Konkani dishes and desserts! Visit Mumbai and get ready to be taken on an extraordinary culinary journey.