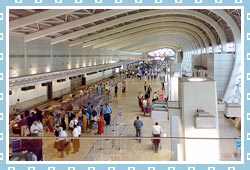 Chhatrapati Shivaji International Airport, formerly known as Sahar International Airport, is one of the major airports of India. The airport was named after the great 17th century Maratha ruler Chhatrapati Shivaji Bhosle. Its IATA code is "BOM", which is derived from Bombay, Mumbai's previous name. Located in the suburbs of Santa Cruz and Sahar in Mumbai, Chhatrapati Shivaji International Airport is constructed in an area of 1450 acres; and so is India's biggest International and domestic airport. This airport is second busiest one in terms of traffic of passengers, busiest in terms of international passenger traffic, and second busiest with respect to overall passenger traffic. The airport has altogether five operating terminals that are spread over the area of 4800 acres, about 19 sq. km. Chhatrapati Shivaji International Airport is apparently South Asia's prominent airline centre, and hence India's important hub too. As per the records of 2010-2011, this airport handles 29.9 million passengers and 670,235 tones of cargo. More than half of the air traffic in South Asia is handled by Chhatrapati Shivaji International Airport, along with Delhi's Indira Gandhi International Airport. This airport was ranked 30th busiest airport in the world for cargo handling in 2010, with more than 671,238 tones cargo handled. This airport has also been ranked the third best in the world in 2011 by Airports Council International, for handling 25-40 million passengers. Shivaji International Airport even registered the growth of 7.6 p.c. over the previous year in 2011 for being the 44th busiest in the world by handling 30,439,122 passengers.
Chhatrapati Shivaji International Airport consists of two terminals, Terminal 1- for domestic departures and arrivals; and Terminal 2- for International flights. Terminal 1 is further bifurcated into Terminal 1A, Terminal 1B and the newly built Terminal 1C. Flights such as Indian Airlines, Kingfisher Airlines and Go-Air ply from T-1A; whereas T-1B operates flights like Kingfisher Red, Jet Airways and several other private domestic airlines. Terminal 2 is divided in Terminal 2A, Terminal 2B and Terminal 2C. General International airlines ply from T-2A; T-2C serves exclusively nationalized government carriers- Air India and Air India express; whereas Terminal 2B is not yet in operation. The two terminals 1 and 2 share common airside facilities but are separated by a landside. The airport does facilitate passengers with shuttle services operating between two terminals.
This airport is located within the city's municipal limits, and is constantly being modernised by Mumbai International Airport Limited, a group of GVK Industries Ltd., Airports Company South Africa and Bidvest. Chhatrapati Shivaji International Airport undergoes constant advancement so as to make it compatible with the newer generation of planes. These changes include concrete runways and expansion of Taxi-bays. Other features and facilities at this airport include car parking, car hiring, ATMs are available for public convenience, duty-free shops, luggage services, proper medical arrangements, to name a few.