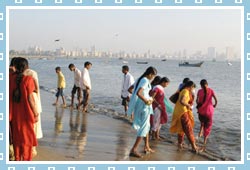 The people of Mumbai are considered to be a chirpy, tireless lot who are streamlined for a fast paced life in the city. Colloquially known as 'Mumbaikars' or 'Bombayites', the inhabitants of this city are often considered as hard-working, cultural, witty, modern people, who are passionate about their lives and are very approachable. It is hard, or almost impossible to define a true Mumbaikar, because a true Mumbaikar is one who is the perfect transfusion of North-meets-South, one who is passionate about cinema, one who loves food, shopping and can be quite pompous about the typical life led in the city every day. Distances from one place to another never seem to bother Bombayites, because it is very common to travel for hours in order to reach one place from another. Mumbaikars are very particular about time and love to be punctual. A blend of different communities, religions and customs, the diversity of the city enables the inhabitants to live life to the fullest and work extremely hard to make all ends meet. Although technologically and industrially advanced, the people of Mumbai are deeply enrooted to their values, religion and principles. Read on for more information on the people of Mumbai.
Mumbaikars
Demographics
Mumbai has one of the highest literacy rates in India (94.7%) which is significantly higher than the country's average. The official language of the state is Marathi; however, sixteen other major languages are spoken here including English, Marathi and Hindi. The city is the commercial and the entertainment capital of India and is also the most populous city of the country. With a high number of migrants and diverse religious groups, Mumbai is truly a melting pot of cultures. Mostly, the inhabitants of the city comprise of Marathis, Gujaratis, Zoroastrian Parsis and Konkanis. Hindus, Muslims, Christians, Jews, Parsis, Buddhists, Sikhs and Jains comprise of the total population of Mumbai.
Kolis - Fisher Folk
The original fisher folk inhabitants of the city are the 'Kolis' who gave the city its name. They are historically an Indo-Aryan race of people believed to have migrated from Uttar Pradesh, Rajasthan, Gujarat and other parts of Maharashtra. Most Kolis were Hindu, but later, many converted to Buddhism, Islam and Christianity under the reign of the Mauryan, Mughal and British empires respectively. They got their tag as fish folk because that is what they did for sustenance. Today, the Koli population in the city has reduced considerably, to about 48%. Though predominantly fishermen, Kolis are a mix of different communities with different professions such as fishermen, agriculturalists and water carriers.
Local Entrepreneurs
Mumbai is host to a number of local entrepreneurs who have made it big in the city. These are small town people who came to the concrete jungle with typical 'Bombay Dreams'. Common local entrepreneurs here are the Panipuriwalla, Dabbawalla, Bhelpuriwalla, Paanwalla, Agarwals and the Slumdog folk who are known for having started the first recycling center in the country. These are just a few of the many entrepreneurs of the city and, to date, Mumbai is considered to be an entrepreneur's first port of call.
Hardworking Professionals
Mumbai is known for the number of hardworking professionals it produces every year. Between the age group of 20-45, Mumbai is known to produce a very young and driven workforce that is extremely devoted to whatever line of profession they are in. Usually, travelling from one place to another in Mumbai is a feat in itself, but distance is never a problem for the local Mumbaikars. Whether they have to travel in a jam-packed local train or through endless traffic, work is every Mumbaikar's top priority whether they are hairdressers, spot boys or IT professionals.
International Dwellers
The city is home to a small population of Bene Israelis who migrated from the Gulf several years ago for mercantile reasons. Mumbai is also home to many South East Asian communities and a small percentage of Europeans such as the Portuguese and French. A truly diverse city!
Tinsel Crowd
The mention of Mumbai people is incomplete without a fair mention of the Page 3 socialites and the tinsel crowd of Bollywood or Hindi Film Industry. The city is home to most of Bollywood's biggest superstars who live in different pockets of Mumbai. Pali Hill, Bandra and Juhu house some of the richest tinsel folk such as the Ambanis, the Kapoors, the Bacchans, the Khannas and the Khans.
Mumbai is, in every sense, a cosmopolitan city. Like any other big city, the people of Mumbai are known to be on their toes all the time. Life and work are top priorities on the list of Mumbaikars who believe in being professional and yet taking pleasure in every moment. Partying, celebrating festivals, shopping, eat out and living the good times are just some of the many rules of life that the Mumbaikars adhere to. Whether you are of Konkani descent or a Zoroastrian, Mumbai is one city that has its gateway open for all wanting to be a part of its vibrant life.