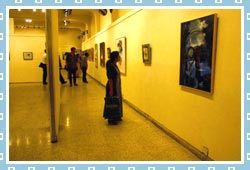 Mumbai is the one of the earliest developed cities in India. This 'city of dreams' has everything you need to enjoy a splendid vacation. Mumbai is home to the Bollywood, or the Hindi Film Industry, and also hosts theatre performances, concerts, dance shows, art galleries and so much more. This is a city that attracts talented people and inspires them to turn their dreams into reality. With a flourishing film industry, Mumbai houses several production studios that are responsible for producing amazing films for the rest of the world. Mumbai, also known as the 'city that never sleeps', has a large number of pubs, bars, clubs and discotheques that are perfect hangout spots for all those 'party goers'. If you want to experience the nightlife in Mumbai, then check out the various hot spots like 'Soul Fry', 'Not Just Jazz By The Bay' and 'Olive'. Clubbers as well as music lovers can get their dose of high adrenaline at 'Cool Chef Cafe', 'Mehboob Studios', 'Blue Frog', 'Polly Esther's', 'Trilogy' , 'Bonobo' and several other dance spots. Entertain yourself and relax at one of Mumbai's coolest lounges called 'Zenzi'. The interests of the Mumbaikars are not confined to just lively nightlife and partying. Art is another passion of the city. Some of the best art galleries in Mumbai include the 'Project 88', 'Galerie Mirchandani & Steinruecke', 'Sakshi Gallery' and 'Chatterjee & Lal ', where well-known artists feature their splendid artworks. The 'National Centre for the Performing Arts' or 'NCPA' is a government-sponsored venue that features plays in English, Hindi, Marathi and also hosts various Indian classical music and dance performances. The 'Shanmukhananda Auditorium', which has a seating capacity of over 2700, is known to host music and dance programs of many popular artists. Entertainment in Mumbai is an experience like no other.
Art Galleries
Mumbai, a city pulsating with life and vibrant with art, is not only the financial capital, but also the cultural and art hub of India. We know that India is a multi-lingual country of colors, vivacity and diverse cultures. Artists from the past and the present have drawn inspiration from this variegated
Auditoriums
The city of Mumbai is dotted with a large number of auditoriums which promote the cultural activities of various organizations. Many great artists have performed in these auditoriums. In fact, some of them gained immense popularity through their outstanding series of performances in these auditoriums.
Bollywood
Mumbai, the City of Dreams, houses the prime centre of Hindi Film Industry, better known as Bollywood. Acclaimed as one of the biggest film industries of the world, Bollywood produces over 1000 films every year. Since 1913, Indian Cinema has made a long journey from simple silent movies
Cinema Halls
The city of Mumbai is home to Bollywood, the largest film industry in India. Cinemas have been the greatest source of entertainment for Indians, ever since the media got introduced here. Mumbai, which houses Bollywood, is the center of the Hindi Film Industry. With Bollywood holding the record of producing the highest number of films every
Discotheques
Going to discotheques is one of the prime means of entertainment among the multifarious ways of entertaining oneself. Needless to say, discotheques are among the most sought after places for the youngsters. With a DJ playing the latest songs and a dance floor, a discotheque attracts lots of people who like to unwind themselves by dancing.
Hangouts
Be it hanging out with friends or just fleeing the crowd for a silent getaway, there is no city quite like Mumbai with its vast variety of hangouts. There would be hardly anyone who doesn't want to indulge in fun and become part of this maddening crowd.
Nightlife
There is no dearth of nightclubs, pubs and bars in Mumbai. As it competes with the rest of the world in terms of being one of the most happening cities, it is doing its best by housing some elite hotels, internationally famous lounge bars and many other establishments which can push it up the ladder of international oomph.
Paragliding
Envision being given wings to fly over the seas, mountains, hills with wings of your own like birds! Sounds wonderful right? This is a widespread heartfelt desire of almost every individual out there. Paragliding is an adventurous flying sport in which the pilot glides
Pubs & Bars
Regarded as the 'city which never sleeps', Mumbai has a very active nightlife. Mumbai's growth as a tourist destination and business hub also played an important role in the mushrooming of numerous pubs and bars across the city. Over a period of time, this city has become home to some globally famous
Shopping Malls
The mall culture in Mumbai has developed in the recent years, thanks to modernization which led to the emergence of malls throughout the globe. The concept of malls in India is recent, and most of the major ones are located in the prime cities, Mumbai being one of them. They have succeeded to attract a large crowd with attractions