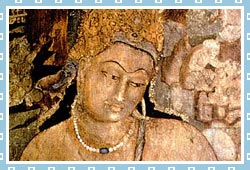 A set of 29 caves, the Ajanta Ellora caves, inspired by Buddhist architecture, are among the finest examples of early Buddhist civilization. Paintings depicting the Jataka tales and other diverse stories of Buddha come to life in these caves. One of the most celebrated tourist destinations around the world, the caves at Ajanta and Ellora are examples of unmatched artistic and engineering excellence. Quite and meditative, these caves also take you back in time and narrate the stories of a royal who, with his saint-like qualities, left all the riches behind to become Buddha. Elaborate sculptures, wall inscriptions, rock carvings, Viharas, Hindu/Jain monasteries and the Kailasa Temple are some of the most interesting things to see while at the caves. These caves have attracted pilgrims and tourists for decades and were declared as a 'World Heritage Site' by UNESCO in 1983. Amid the beautiful pictures and paintings that the Ajanta Ellora caves are famous for, are the multifarious sculptures and poses of Buddha-calm and contemplative. For more, scroll down.
Places To See
Apart from the various caves at Ajanta and Ellora and the different Buddha sculptures, there are a variety of other places to see in and around the caves. The Kailasa Temple is one such excavation and is one of the largest monolithic structures in the world. This temple has continuously attracted pilgrims all year round, through the decades and to the present day. Once you have admired the Buddhist architecture and the beautiful paintings that adorn the cave walls, there are a few other places you could explore. The Bibi Ka Maqbara, the Daulatbad Fort and the Buddhist monasteries outside the cave complex are worth a visit. If you have the time to visit Aurangabad, which is only 104 km from Ajanta and Ellora, you could also pay a visit to the Aurangabad Caves, the Panchakki and the Aurangabad City Walls.
Shopping
There are quite a number of souks outside both the Ajanta and Ellora caves. If you are looking for fabrics, silver, semi-precious stones, beads and local, hand-carved sculptures of Buddha, then this is the place to be! Ellora is slightly more shopper-friendly and offers a greater variety of products including apparel, footwear and accessories to name a few. Local images and paintings of various Hindu Gods along with Buddha, and even Jain, paintings can be found here.
Eating Out
The walk from the Ajanta Caves to the Ellora Caves can be quite a task and can also make you very thirsty. Throughout the journey, there are local food stalls and counters were soft drinks, fresh juices and snacks are sold. If you are looking for restaurants, then both cave sites have MTDC restaurants and an MTDC resort that serves a delectable array of food, refreshments and drinks to get you prepped for the rest of the day.
Accommodation
Budget Hotels