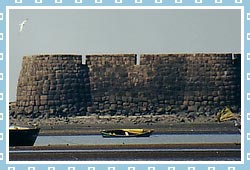 Alibag, kissed and bordered by the Arabian Sea, is known for its palatial sea forts, local fish delicacies and the virgin, sun-kissed beaches. A trip to Alibag is the ideal weekend getaway from the hustle-bustle of cosmopolitan lives. Located just 95.3 km from Mumbai, Alibag can be reached by NH 66 in about 2 hours. The name Alibag literally translates to 'the garden of Ali'. Located in the Konkan region of Raigad, this tourist hub is the ideal place for people looking for sun, serenity and solace. Surrounded by sea on all sides, Alibag is also known as the 'Goa of Maharashtra'. The town borders a famous Israeli-Jewish region, and is home to over thousands of families of Jewish descent. One of the most popular synagogues, called the Israel Ali, is also located in this city. Set amidst the backdrop of the Arabian Sea, Alibag is home to tranquil waters and lacunae beaches. The town can also be reached by ferry from Mumbai and is a perfect tourist spot for both young and old. Read on to know more.
Places To See
There are a variety of places to see while in Alibag. The Kulaba Fort in the town is well-known for its architectural grandeur and was built by the late Maratha King, Chhatrapati Shivaji. This fort directly overlooks the town while also facing the sea. The beaches in and around Alibag are also popular tourist destinations. The Alibag Beach is a must-visit place and is perfect for a promenade or a stroll with your loved one. Varsoli Beach, Nagaon Beach, Korlai Beach, Akshi Beach, Kihim-Navgaon Beach and the Thal Beach are some of the other popular beaches around Alibag.
For those wanting to visit religious destinations, the Kaneshwar Mandir is located around 13 km from the heart of Alibag. Mandawa is also an important tourist destination situated 20 km from Alibag where one can find bungalows of Bollywood's celebrities. The 150-year-old 'Magnetic Observatory' is also worth your visit while you are in Alibag.
Shopping
There are small lanes and streets that are great for a local shopping experience in Alibag. Shopaholics will be surprised with the local, hand-made garments, bags, antique jewelery, leather items and furniture. The 'Kohlapuris' (traditional footwear) are also easily available at throwaway prices. If you can bargain, even better!
Eating Out
Since Alibag is a coastal town, you can expect to find delectable and amazingly fresh seafood in and around. The town is famous for the choicest seafood catch that comprises of lobsters, prawns, pomfret and crab. For those looking for the town's special cut of meat, many restaurants serve the 'Bombay Duck', made with the freshest spices and the local curry.
Accommodation
Budget/Economy Hotels