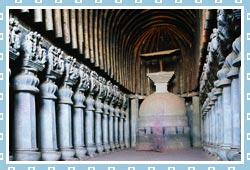 Lonavla is a popular town and a hill station in the Pune district of Maharashtra. This hill-station is located on the Mumbai-Pune Expressway and is about 111.5 kms from Mumbai. Lonavla is famous for a popular candy known as 'chikki' and is also a major tourist stop-over between Mumbai and Pune. The lush blanket of green surrounding this hill-station springs to life during the Monsoon season. Many popular Bollywood films have used the picturesque backdrop of Lonavla which is blessed with waterfalls, lakes and greenery. The name 'Lonavla' is derived from 'Len' and 'Avali' that roughly translates to 'the resting place of stones'. This scenic hill station was initially a part of the Yadava dynasty. Later, the Mughals used this beautiful hill-station as a strategic location against their rivals. In 1871, Lonavla and the sister hill-station, Khandala, were discovered by Lord Elphinstone. Nearby attractions are Lohgarh fort, Lion Point, Tiger Point and the Duke's Nose. With a population of 60,000 souls, Lonavla is must-visit hill station on the way between Mumbai and Pune.
Places To See
When in Lonavla, there are a variety of places a tourist should visit. Apart from the breathtaking views of the lush-green trees and shrubs, the hills, the waterfalls and the Lonavla Chikki, there is a lot more to see at this mystifying hill station. Tourists can visit Khandala as well, which is a neighboring hill-station. The Karla, Bhaja and Bhedsa caves are a must-visit for those wanting to soak in medieval splendor. There are a few hill station points that offer a tremendous view, some of them being Rajmachi Point, Tiger Point, Lion Point, Duke's Nose and Shooting Point. The Wax Museum is located 3 km from the railway station is a fairly new attraction for tourists. The Tungarli Lake and dam are also worth visiting, especially, during the monsoon season. For those seeking history-based adventures, the Lohgarh Fort offers a palatial view of the battle-station of Chhatrapati Shivaji.
Shopping
Shopping in Lonavla is all about purchasing the local and the most famous sweetmeat-the Lonavla 'Chikki'. The different kinds of chikkis are available in a variety of flavors and no tourist should leave the hill station without buying a bag full of them! A few places where chikkis can be purchased are 'Maganlals', 'A1', and 'Coopers'.
Eating Out
There are many mouthwatering restaurants available aplenty in Lonavla. Gujarati food is extremely popular at this hill station and should not be missed. Tourists should try the local 'vada pao', Masala Chai and roasted corn served by local hawkers all around the town. For those wanting to eat south Indian food, 'Kamat's' is a popular restaurant in Lonavla that serves lip-smacking delicacies.
Accommodation
Economy Hotels