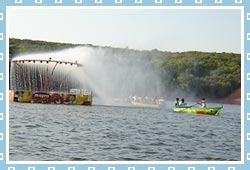 Mahabaleshwar is a beautiful hill station known for its perfect weather all year round. The jungles of Mahabaleshwar are known for their density and a stunning array of birds and wildlife. Mahabaleshwar was initially engineered to be a health resort. The first governor of Mahabaleshwar, Sir John Malcolm, established the hill station as a recreational getaway in 1829. The hill station is now known for its vast plateau of beautiful roads, forests and plantations. Mulberries, gooseberries and strawberries are popularly grown in this region. Once in Mahabaleshwar, there are a variety of places tourists can visit to savor the splendors of this scenic getaway. Wilson Point, Marjorie Point, Castle Rock and Elphinstone Peak are some of the most popular tourist hot-spots. The town is well-endowed with modern amenities such as ATM's, restaurants, hotels as well as various places of worship. While at Mahabaleshwar, one can also see a grand view of Krishna Valley which is home to many significant temples. Read on for more information.
Places To See
There are a variety of places to see when in Mahabaleshwar. If you are interested in a bit of the rich history that Mahabaleshwar has to offer, then you can visit 'Pratap Gadh', which houses the tomb of Afzal Khan. If you are looking for serenity, then there are a number of temples you can visit. From 'Shri Shankar Mandir' to the 'Panchaganga Mandir', a host of temples are surely going to bring you some peace. For adventure activities such as hiking, trekking and climbing, Falkland Point, Carnac Point, Wilson Point, Connaught Peak and Castle Rock are the perfect destinations. The Queen of all points, Arthur Point, contains the largest stratification of rocks in Maharashtra, and many even compare it to the rocks of the Grand Canyon in Colorado, USA.
Shopping
If you are looking for some fresh produce and local trinkets, then the best place to head towards would be Main Street. Here, fruit fanatics find themselves surrounded by the choicest strawberries, raspberries and mulberries and even jams. Local shoes made of wood are also very popular in this region and can be bought at really cheap prices provided you know the subtle art of bargaining.
Eating Out
Mahabaleshwar is a little more modern than most hill stations in Maharashtra. A variety of cuisines catering to all palates can be found here. If you are looking for local fare, try the food at 'Hirakanis' that will not leave you disappointed. For fast food lovers, a variety of mini stalls and food vendors serve pizzas, burgers and sandwiches. The 'Batata Vada' (a spicy potato bonda sandwiched in bread) is extremely famous in this region and is available all over town.
Accommodation
Budget Hotels