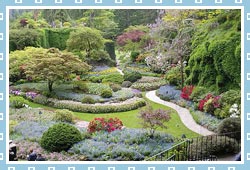 Do you wish to relax amidst a lush green carpet and inhale some fresh air? Well, then Veermata Jijbai Bhonsle Udyan is the perfect place for you. Formerly known as 'Rani Bagh' or 'Victoria Gardens', this place has been renamed as 'Jijamata Udyaan' or 'Veermata Jijabai Bhonsle Udyan' in the memory of Maratha warrior Shivaji's mother. Victoria Gardens is located in Byculla, the heart of Mumbai. Inaugurated in 1861, this is considered to be one of the oldest zoos of India. Another major attraction of this garden is the Bhau Daji Lad Museum (previously known as Victoria and Albert Museum).This museum is located in the same premises with the purpose of enhancing industrial as well as agricultural interests. Going towards the east of the museum, one would find a giant statue of an elephant; this statue, found at the Elephanta Caves, was taken to retain but was later returned to adorn this garden. Victoria Gardens is spread over 48 acres, with a clock tower located near the entrance, to welcome visitors. If you want to gather more information regarding the same, scroll further.
Veermata Jijabai Bhonsle Udyan
History
The land where Victoria Gardens/Rani Bagh now stands was previously owned by an affluent Jewish businessman, David Sassoon. He instructed the famous Lundons architect to design the Victoria and Albert Museum. A clock tower was also built along with this, which still exists in the garden, but doesn't tell the time anymore. The interiors of this museum are quite similar to the Magen David synagogue of Byculla. Later, David Sassoon donated this land to the Municipal Corporation of Mumbai.
Other Structures In The Garden
The Clock Tower present at the entrance of the Victoria Gardens is a testimony to the Italian and Renaissance architecture in India. The botanical garden in Victoria Gardens is very well laid out and comprises of rare species of plants along with some ancient trees. These plants are also used for various researches and studies. The ornamental gateway of the garden and the buildings are fashioned in the Greco-Roman style, which is yet another striking feature. A statue of Jijamata and Shivaji is also displayed in the garden. The zoo functioning in Jijamata Udyaan is home to various endangered species of animals and birds. The Bhau Daji Lad Museum, previously known as 'Victoria and Albert Museum' after prince Consort and Queen Empress of India, contains a large collection of archeological artifacts. India's culture and art has been displayed and exhibited through the valuable collections of this museum. There are also provisions for enjoying elephant ride Safaris where you can spot various other animals and take a closer look.
How To Reach
By Rail
Victoria Gardens lies in Byculla, heart of Mumbai. In order to reach the garden by train, you have to travel along the harbor lines.
By Road
Victoria Gardens is very well connected to other parts of the city. You can hire a taxi or take a bus or an auto to reach this lush green garden located amidst the concrete jungle.
Once you are in Mumbai, don't miss the opportunity to take a stroll amidst the lush greenery in this gorgeous garden. This green wonder of Mumbai not only provides you with a peaceful atmosphere, but also amuses you with its varied collection of artifacts and flora and fauna.