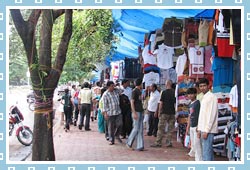 Fashion Street is one of the most widespread shopping destinations in Mumbai. With over a varied array of 150 shops, Fashion Street promises the ardent shopper a lot more junk and knick-knacks than any large mall or fashionable stores can offer. Located opposite the VSNL office building on M.G. Road, the street is famous for the latest and the trendiest clothing lines in Mumbai. Even designer brands are available here at off-the-cuff prices. A variety of denims, shirts, accessories, hats, footwear and mini-restaurants can be found on this street. Export quality garments in a variety of sizes are unceremoniously dumped in petty shops that attract tourists all the more. The muddle of color, combined with the aroma of delicious street food and unbelievable fashion is what sets this market apart. If you want to enjoy street side shopping in Mumbai, then there is nothing better than heading out to Fashion Street that promises a plethora of clothing and accessories and off-the-cuff prices. If you are a smart buyer and you know how to bargain, then Fashion Street might just be your 'Shangri-La'. Read on for more information.
What To Expect
Once you get into Fashion Street, don't be surprised if you are surrounded by a horde of stomping students and teenagers. A vibrant flea market, Fashion Street is a shopper's Eden. Tourists will often find themselves surrounded by over 100, small shops, where chic, export surplus clothing and fashion accessories are available for offbeat prices. Fashion conscious collegians and enthusiastic shoppers are almost always enthralled by the collection of readymade garments and trinkets available here. From traditional dresses to colorful bangles and state-of-the-art gadgets, Fashion Street is more than just a regular market. Jewelery can also be found abundantly here. Be prepared for the wariness of shopkeepers who quote higher-prices to people who are visibly new to the place. Use your intuition and shopping knowledge and bargain! If you are good at bargaining, then you might be able to get yourself some really good deals at inexpensive rates.
Architecture
Most of the shops are dilapidated buildings, with traces of Gothic architecture. One of the oldest markets in Mumbai, Fashion Street is just a cluster of 100-150 shops lined in two separate rows, mirroring typical flea markets.
Shopping