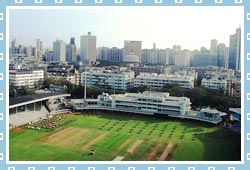 Brabourne Stadium is one of the oldest cricket grounds owned by the Cricket Club of India (CCI) and was the first permanent venue for sports. This stadium saw 'Master-Blaster' Sachin Tendulkar make his first double century of first-class cricket in 1997-98 in a match between Mumbai and Australia. Located near the Churchgate Railway Station, this cricket ground has hosted about ten matches beginning from 1948 to 1972 also including Bombay Pentangular matches until 1946. After a long gap, international cricket returned to Brabourne Stadium recently which also served as a host for the ICC Champions Trophy in 2006. This stadium, built on a piece of land reclaimed from the sea, was officially inaugurated on 7 December 1937. The opening match was played between CCI and Lord Tennyson's team. This luxurious stadium became a center for multiple sports facilities during the British period and also hosted international tennis tournaments. Several matches in this stadium had restricted entry because of many infrastructure and ticketing problems which brought another, nearby cricket stadium into the picture. After the inauguration of Wankhede Stadium, the use of Brabourne stadium for test cricket matches was discontinued.
Mumbai Cricket Ground
History
The Brabourne Stadium boasts of a glorious past. It is named after Lord Brabourne who laid the foundation stone for the stadium on 22 May 1936. This stadium was built with an aim of accommodating 35,000 spectators and for providing players with pavilions, swimming pool and tennis courts. Soon after the construction of the stadium, the Pentagular series shifted here in 1937-38 from the Bombay gymkhana. This stadium also houses the headquarters for the Board of Control for Cricket in India (BCCI). This stadium was designed by Neville de Mello. Brabourne Stadium acquired its name after Lord Brabourne, the Bombay governor as per the suggestion of the Maharaja of Patiala. Before the separation of Bombay Cricket Association in 1973, seventeen test events were added to the list of events hosted in this stadium. A One Day International match between Pakistan and Australia was played at Brabourne after a long gap of thirteen years.
Architecture
Brabourne Stadium comprises of a pavilion with three stands namely, North Stand, West Stand and East Stand. All these three stands face the clubhouse from three different sides of the ground. The walls of the pavilion are attractive with wooden paneling and decorated marble floors.
Concerts And Events