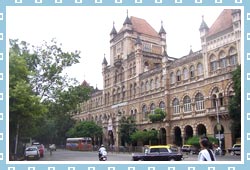 The University of Mumbai, also known as Mumbai University, is one of the oldest universities in India. Honored with a five-star rank by the NAAC (National Accreditation and Assessment Council), the university has the largest metropolitan campus in the country. A public institution, the Mumbai University offers diploma courses, undergraduate and post-graduate courses. Established in 1857, the university is affiliated to a variety of colleges in and around the city in places like Raigad, Sindhudurg, Thane and Ratnagiri. One of the top 500 universities in the world, the main campus is located in the Santacruz district of Mumbai. Most prestigious institutions in Maharashtra such as St. Xavier's college are affiliated with the Mumbai University. Known for its high standards of teaching, the university is home to some of the most dignified specialized centers and the Jawaharlal Nehru library. The styles of teaching were adopted from the English styles of teaching, imparting education through sister or affiliate colleges. Like most universities, the two most important centers in the Mumbai University are the Fort and the Kalina campus. Scroll down to know more about the university.
History And Architecture
Known as the University of Bombay earlier, this institution is one of the oldest institutions in the country. Established in 1857, the university primarily followed English styles of teaching. The name of the university changed on September 4, 1996 and was officially published in the Government Gazette. Initially the Institute channeled its energies only towards the undergraduate department. However, in the later years, the university began to undertake research and post-graduate applications. The independence of the country from the British led to the reformation of the functions and the powers of the university and also led to the passing of the Bombay University Act of 1953.
The architecture of this grand structure is primarily Gothic in style and the campus covers a vast expanse of 230 acres. With two post-graduate centers, the university has 36 educational departments in total. Apart from the main campus in the Santacruz district, there are three other branches of the Mumbai University-Kalina Campus, Fort Campus and the Ratnagiri Campus. The Fort University is also home to one of Mumbai's most prized landmarks; the 'Rajabai Clock Tower'.
The Campuses