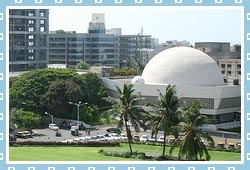 Nehru Planetarium is a huge dome-shaped building which was established in 1977 and inaugurated by the then Prime Minister, Indira Gandhi. Located in Worli in Mumbai, the building was designed by J.M. Kadri, one of the prominent architects of India. The building later became immensely popular among the astronomers, space aspirants and children in Mumbai. Moreover, the planetarium is a center of logical study for students and amateur scientists of astronomy and space science. Planetarium also witnesses various discussions and lectures based on astronomical and cosmological events like science quiz contest, Astro painting, Astro poetry and science elocution for science-inspired students. Since its establishment, it has conducted thirty one astronomical presentations and boasts of being the only astronomical centre which includes both the concert and the movie auditorium as it is conducts shows on a daily basis. Read on to know more about Nehru Planetarium and its major attractions.
Attractions
Nehru Planetarium is a domed building that houses an art gallery, restaurant, library and a cultural center. The main highlight of the planetarium is the variety of cubicles which is able to calculate your weight in each of the nine planets of the solar system. Adjacent to it, there is Science Complex which exhibits a 14 minute exhibit which is known as the 'Discovery of India'. It is an exhibition which covers all the diverse elements of the artistic, philosophical and academic journey of India through the ages. These are displayed in 14 galleries which include major architectural and artistic works, photographs and audio visuals. The place, most often, is flooded by students. It also displays tramcar, railway engine, steam lorry and a supersonic jet. Nehru centre also hosts international fairs and local exhibitions and at the basement of the planetarium, located the Nehru Auditorium which is the venue for classical music and dance recitals, plays and concerts. This marble paneled auditorium boasts of amazing acoustic effects and has a capacity to accommodate almost 1000 people at a time.
Reveals The Cosmic World
For visitors, Nehru Planetarium provides an insight into the cosmic world while serving as a platform for aspiring astronomers. Visitors here get an opportunity to have a closer view of the solar system. It also provides special arrangements to watch study and photograph the eclipses and other major events such as meteoroids showers. Curious visitors can watch various phenomena through the telegraphs installed outside the planetarium. Planetarium also uses Digistar-3 Planetarium Equipment-the technology which enhances the space experience for visitors. One can also watch regular movies related to space which is definite to enthral children. Nehru planetarium has a mobile mini planetarium for the benefit of the people in the rural areas, creating awareness about the astronomical progresses in them. These shows are highly in demand.
Theatre Programme
Nehru Planetarium also runs a theatre programme namely, 'Awesome Universe'. As a part of this program, they exhibit a 45 minute presentation-'Cosmic Journey And Heavenly Wonders'. The theatres shows are in English, Hindi and Marathi.
Nehru Planetarium is indeed a place worth watching if you are curious to know about the unknown mysteries of the universe. Hope this article familiarises you with the attractions that await you there.