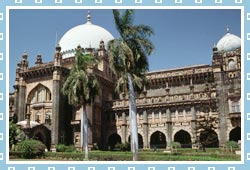 A prime city that lies on India's western coast, Mumbai is actually a cluster of 7 islands. This remarkable city is blessed with many historical monuments and exquisite tourist spots that captivate the attention of tourists from all over the world. The city of Mumbai pulses with numerous religions, cultures, languages and cuisines. Mumbai parades a fashion of its own, with some of the world's celebrated designer brands and labels available at every nook and corner of this spectacular city. Visit this charismatic city, walk into the realm of its history and find your own special reason to love Mumbai.
Some of Mumbai's museums are devoted to art and crafts that relate to ancient times and the names of some of the museums have also changed over the years. People who like astronomy can enjoy exploring the 'Nehru Planetarium', located at Worli, which features artistic works, astronomical presentations and documentaries. The 'Prince of Wales Museum' also known as 'Chhatrapati Shivaji Maharaj Vastu Sangrahalaya', displays artworks, archaeological discoveries and artifacts of Natural History. If agriculture and industrial arts interest you, then take a look at the 'Dr. Bhau Daji Lad Museum', which is also, the oldest museum in Mumbai. The 'RBI Monetary Museum' is a monetary museum that treasures and displays the monetary heritage of India. One can also explore the collection of rare specimens and natural history at the 'Bombay Natural History Society'. For those looking for a bit of nationalistic history, a memorial dedicated to the 'Father of the Nation', 'Mahatma Gandhi', which is conservation of Gandhi's house and belongings can also be found in the city. Come and explore the museums in Mumbai that will take you back in time!
Victoria & Albert Museum
The Victoria and Albert Museum was built in 1872 and is one of Mumbai's prized structures. Among the many museums in Mumbai, the Victoria and Albert Museum is the oldest one, which is now renamed as 'Dr. Bhau Daji Lad Museum'.
Bombay Natural History Society
Bombay Natural History Society (BNHS) is one of India's biggest Non-Governmental Organizations (NGO) that was founded in 1883. The sole aim of this organization is to conduct research activities and observations on natural history and displaying rare specimens.
Prince of Wales Museum
The Prince of Wales Museum, now commonly known as 'Chhatrapati Shivaji Maharaj Vastu Sangrahalaya', was established during the early 20th century. This museum is considered as a heritage structure in Mumbai because of its admirable architecture. The Prince of Wales Museum is one of the most significant museums
Mani Bhavan
A memoir of Mahatma Gandhi, Mani Bhavan is located in Laburnam Road, Mumbai. Known by the name Gandhi Museum, the main highlight of this Gujarati style residence is that it is here Gandhi laid the foundation for many independence movements like Non-Cooperation, Satyagraha, Swadeshi,
National Gallery of Modern Art
National Gallery of Modern Art, Mumbai was established in 1996, with an intention to promote the modern trends in Indian culture. Located in Colaba in Southern Mumbai, the building was initially a concert venue, which was later made into an art gallery in 1954.
Nehru Planetarium
Nehru Planetarium is a huge dome-shaped building which was established in 1977 and inaugurated by the then Prime Minister, Indira Gandhi. Located in Worli in Mumbai, the building was designed by J.M. Kadri, one of the prominent architects of India. The building later became immensely popular among the